January 3, 2006
Way overdue but i have to thank my wonderful SP6 pal Missy!!! It was my first time as a secret pal giver or receiver. I wasn't a good giver i'm afraid. With all good intentions, i still haven't gotten my pal her present yet. I have it all, it's in my room, i'm just not a good SP. She sent me a note saying, no worries, maybe i'll make it by her birthday....which is in April.....OUCH!!!! I deserved it though. It's on my list for tomorrow and to the post office and also my Katrina cloths. ANYWAY....
Missy
. She's from the state I just moved from, i have roots there and lots of family. Well she was the best. She took time to get to know me, sent me cute emails, was so supportive and sweet. And just sent me really sweet and thoughtful things. Lookee what she sent...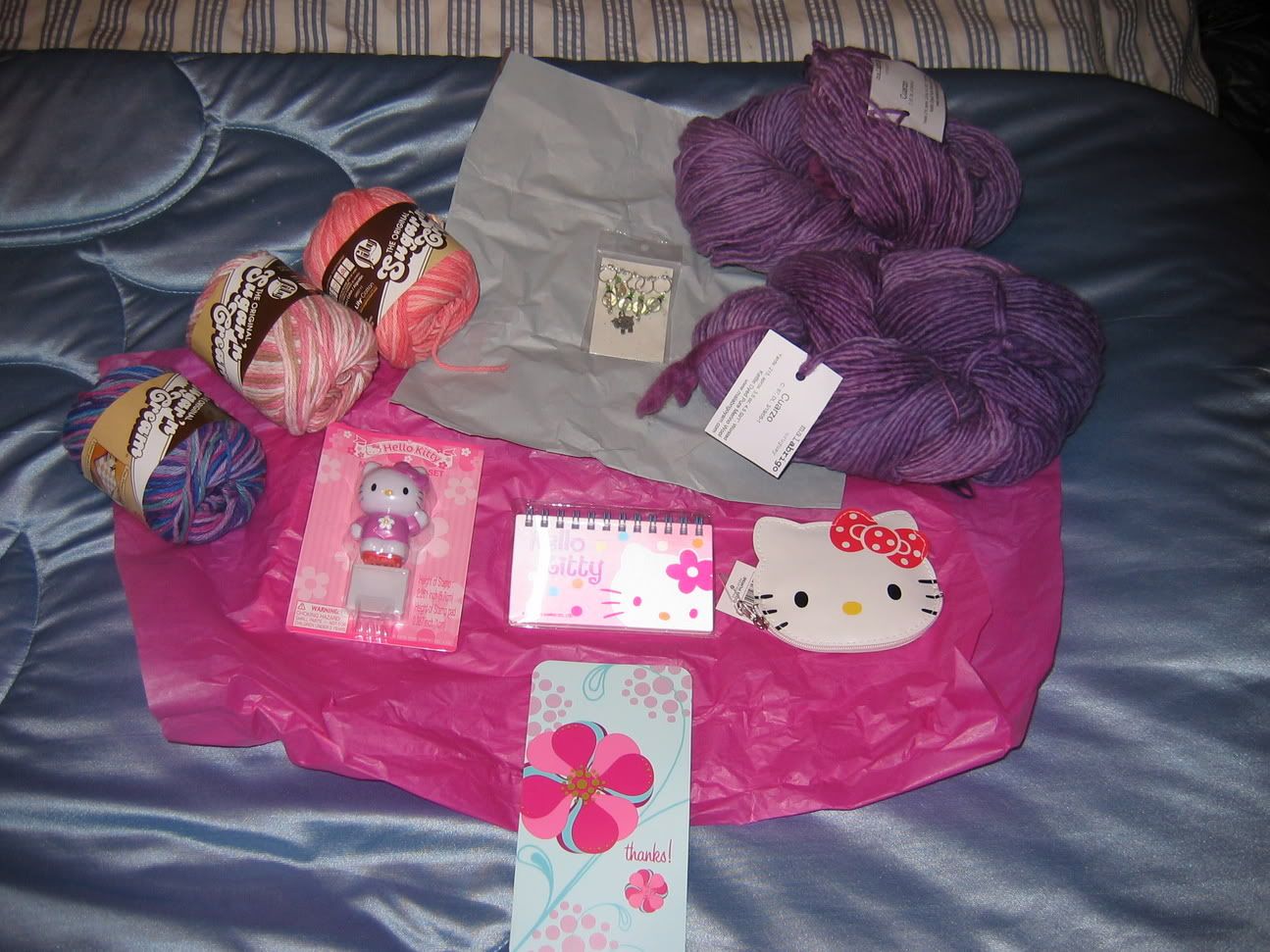 She sent me this really sweet card, telling me a little more about her, some really cute Hello Kitty stuff, like a coin purse, a notepad and a stamper. A cute set of stitch markers (the pics aren't the greatest), 2 (I mean wow, 2 whole skeins) of Mal Abrigo yarn in this really lovely lavender, the color is just gorgeous. I'm going to find just the right project for the Mal Abrigo and it's going to be for ME!!! I'm thinking of making Fuzzy Feet with them? I don't know, it has to be perfect because the yarn is so beautiful! And then on top of that she was thoughtful enough to include 3 balls of cotton yarn for my Katrina project. Is she cool or what!!? Missy, it's been a pleasure and i hope we keep in touch, sweets. Thank you soooo much!
Well, Junior and I are not going to work it out. I told him yesterday. We talked Sunday night when i was at my friends house. She made a prime rib after all and we had a magnum of champagne so her husband decided i should stay the night and not be on the road, plus it was windy and raining so i did. Junior called and i talked to him and i thought we could maybe work on it, but then something else happened and there is no way i'm going to continue the relationship. It has to do with truth and honesty, it's a long story, but bottom line, my gut is saying....be careful, be wary, run.... I listen to my gut. It's sad, i am hurting, but it's right. There must be something else out there for me. And my friend has been calling and really taking care of me and being a very sweet and supportive friend. I thank God for her. And thank all of you for your kind comments, it is appreciated.
I've had to frog my lacy Dainty Bess scarf twice, the last time i ripped it all out and started over. Now i'm counting rows and marking it on a post-it, it's going better. And it's beautiful.
I'm tired, going to read.