August 7, 2006
Had a wonderful weekend, it was average temps but comfortable. I picked up my brother Friday after work, so we were able to sleep in a little on Sat. a.m. and it was a nice and relaxing day. I'm still fighting getting a cold, getting rid of a sore throat, but Airborne has kept it at bay. Sunday we took Gary to the movies and we saw Talladega Nights with Will Ferrell. We enjoyed it. It's got silly humor but we laughed and my brother loved it. Then we went to get some dinner, some dessert and a quick trip to the book store. I got a Vogue Knitting! I couldn't help it. My favorite issues are always the Fall issues. Hate to think of it, but we're transitioning already into the Fall season. There are about 5 sweaters in this issue that I MUST knit! ;) These two being my favorites.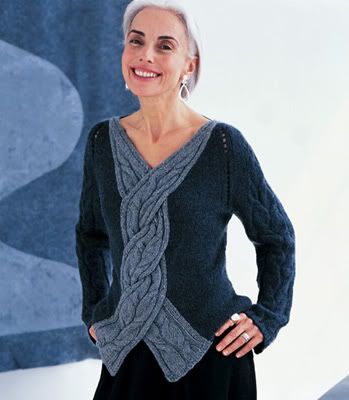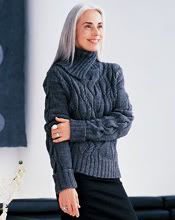 And these socks/hose are absolutely sexy in my opinion. I want to make them.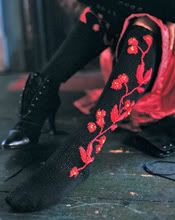 I've found a new recipe that I love. It's called Tabouleh, that's how I spell it. I've had it before, there was a lady who made great Tabouleh in Minnesota of all places but I had never made it myself. So I saw this recipe on
Moozie's page
and decided to try it. The first time I didn't soak the bulgar wheat long enough but it was fine after sitting for a while. And I hand chopped everything and I wouldn't suggest that either. Do it the easy way and it makes the flavors meld better. The 2nd time I made it this Sat. and I soaked the bulgar for about 1 hour, drained it, put the parsley, mint, onion, and 2 persian cucumbers rough chopped and unpeeled. And then I pulsed it until it was chopped. I hand chopped the tomatoes, and I added 2 gloves of minced garlic. I only added 1 lemon because they were huge and I put salt in it. It is YUMMY! and it's a great side dish. My next try is going to be her hummus recipe. Tabouleh is a great way to get your whole grains in along with raw garlic and the mint and parsley have a great flavor. You'll have to try it.
So, during times when it's hot, or when you get so busy with the kids going back to school, what keeps you motivated and inspired to knit? For me, it's magazines and the new fall colors coming out. The colors of Fall are my favorite. I can't wait to start knitting some deep purples and reds.