October 5, 2007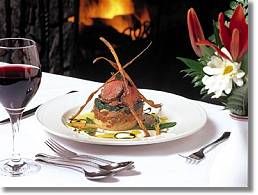 Appetizer
On a scale of 1-10 with 10 being highest, how much do you look forward to your birthday?
About an 8. It's always celebrated and why not celebrate? What can you do, it's natural to age, so celebrate it.
Soup
What is one word you don't like the sound, spelling, or meaning of?
Supposedly. It's always used wrong, often they say

Supposably

and it bugs me. It's used too much.

Salad
Do you wear sunglasses when you're outside? If so, what does your current pair look like?
I must wear sunglasses when outside, my eyes have become sensitive. My current pair are big, Nicole Richie style, black, with sequins but they are also

cheapies

. I don't spend a lot of money on sunglasses because I'm too hard on them and I don't see the value in expensive pairs.

Main Course
If you were to write a book, to whom would you dedicate it?
Probably my

Mamacita

....

Dessert
Name a beverage that you enjoy.
COFFEE!!! Must have coffee daily!
Labels: Friday's Feast