November 9, 2007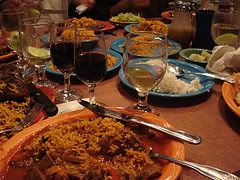 Appetizer
Which snack do you like to get when you go to the movies? I like the buttered popcorn and a diet soda, but being on Weight Watchers, I'd probably sneak some healthy snacks in my purse.

Shhhh

....don't tell.

Soup
What year did you start using the

internet

?

Oh my, I can't remember but I think it was around 1990.



Salad
What is your first name in Pig Latin? (Here's how to speak it if you don't already know!)

Ichelemay



Main Course
Name something you are picky about.

I am picky about my makeup. I use Bare Minerals for my base, I use MAC for my blush and eyeshadow.



Dessert
Fill in the blanks: I

____

____ yesterday and I ____ ____ today.

Hard one! I ate well yesterday and I feel great today.
Labels: Friday's Feast