January 4, 2008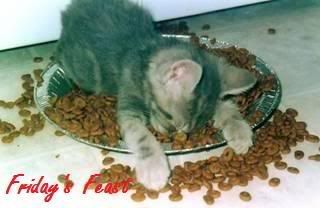 Appetizer
When was the last time you received a surprise in the mail, and what was it?

Probably a bill that I wasn't expecting.



Soup
If you could have a summer and/or winter home, where would you want it to be?

Summer home on the Florence Oregon coast, Winter home in Big Bear, CA.



Salad
Pick one: pineapple, orange, banana, apple, cherry.

Pineapple



Main Course
Describe the nicest piece of clothing that you own.

My wedding gown, I still have it and I have no idea why.



Dessert
If you could forget one whole day from your life, which day would you choose to wipe from your memory?

July 4, 1999 and I don't want to tell you why.
Labels: Friday's Feast