January 11, 2008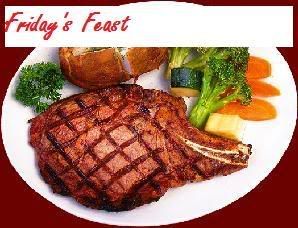 Appetizer
What is your middle name? Would you change any of your names if you could? If so, what would you like to be called?
My middle name is Denise. I was named after my Father, my first and middle name is his name backwards and feminized. I wouldn't change it but when I got divorced I almost changed my name to Holly

Golightly

, because I could and because she's my favorite character.

Soup
If you were a fashion designer, which fabrics, colors, and styles would you probably use the most?
If I had the talent I'd use knits of course! And I'd use natural fibers mainly, all colors, vibrant jewel tones and it would be casual and elegant.

Salad
What is your least favorite chore, and why?
Scrubbing the toilet.

Ewwww
Main Course
What is something that really frightens you, and can you trace it back to an event in your life?
I have a fear of wasps or hornets. I know it's because I am allergic and have been very sick by getting stung. Not stop breathing,

epi

pen sick, but huge welts, vomiting and hallucinating from a high temp sick and it was horrible. I will yell, scream, flee if I see one.

Dessert
Where are you sitting right now? Name 3 things you can see at this moment.
I am sitting in the reclining red leather couch. My favorite sitting area, I can see my

Mamacita

, Henry the cat and the TV.
Labels: Friday's Feast