February 14, 2008
Well, here's one of my surprises for 2008. A new blog design! What do you think? I simply love it and can only think it'll be improved when I get all my crap reloaded on the sidebar. I feel like it's mine now, like it reflects me. I wanted it to be pretty, and soothing and a comforting place to be and I hope you feel it like I do. Thank you to Ro at the
Blog Cafe
! She did a great job and she was very nice to work with, even though she had to work with me...
The Recipe For Michele

3 parts Rebellion
2 parts Charisma
1 part Silliness

Splash of Sass

Finish off with a little umbrella and straw
I like the Splash of Sass part in my Michele Martini!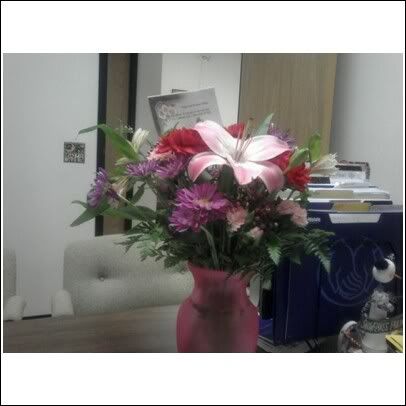 Look what Mitchypoo received at work yesterday! Aren't they lovely! They are from my special someone in SC. It was a really nice surprise. Mamacita was observant of my weightloss efforts and gave me a lovely card and a Starbucks card! YAY! We're going to go to dinner tonight and will be each others Valentine! I hope that you feel and know that you are loved today!
Lipstick worn today: Chanel Rouge Allure in
Romantic
(how fitting)
Perfume worn today:
Truly Pink
by Vera Wang ~it too is soft and romantic and reminiscent of being in a rose garden.