May 12, 2008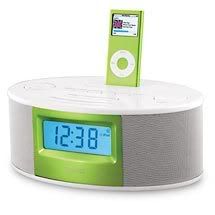 I splurged and bought
mysel
a
Homedics
Spa Fusion alarm clock with nature
sounds
and an
ipod
docking station. I'm pretty particular about alarm clocks because they have to have 2 alarms because I have a hard time waking up. And it can not have that really annoying alarm sound, you know the one. It gives me anxiety, I don't know why it does, but that noise does and so this alarm has 2 alarms and you can wake up to a beep, that isn't annoying, the radio, nature sound or my
ipod
. It's so cool. It charges my
ipod
too. So I can go to sleep listening to the ocean, or rain, or a waterfall, or sunrise, it's really soothing. And I ordered my free face plate today in blue to match my
ipod
. It came with black and green, pink, but I guess blue is a newer color, but they are sending it to me. I'm really happy with my spa fusion.
I'm home again from work today. I went to the
dr
. last
thursday
and they did a chest
xray
, i was suppose to hear something on Friday. I did not. Friday I got worse and worse. I left work early because I was coughing so much, totally exhausted, and I was so sick all weekend. Today I called the
dr
. and told them
I'm
even worse. I don't know what to do. They haven't called me back yet and it's 3 pm.
I've started another clapotis. It's good knitting for me now because after getting the beginning set up rows done, it's kind of mindless knitting. And that's what I need right now. So I sleep, get up and knit...