March 21, 2007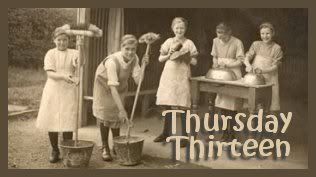 Thirteen Things about why I'd like you to come join us at the Knitting and Losing Trivia Tournament!
It's fun! Come every day and see how smart and quick you are today! The link to play is on my right hand sidebar, it says Play Now!

The questions change daily. Periodically I may change the topic.
How many times can we let Tori win for the month?! Hee hee. She's a toughy, but then, so are Mammy, Beaconbabe and Nyxxie.
You can win Fun Trivia Bucks and win things like A Cheesy Snow Globe, a Pink Unicorn, a Monster Truck of Destruction or a Money Fountain!
It would make me happy...and I know that you all care about my personal happiness!
It's a chance to get to know others. Leave a comment.
It increases your knowledge.
You can play other tournaments and raise your ranking. But please play in my tournament too.
I'll send you a small gift if you are the monthly winner!
Because I want to improve our global ranking, it says this now: Of 4000 active tournaments, Knitting and Losing Trivia Tournament was #2562 in terms of popularity yesterday.
You can invite your friends to play. There is a link to our Tournament under the tab Link Up!
You can post a Shout Out! to all participants, put your blog url in there if you like.
Because this was hard to find 13 reasons and cuz I just want you to~OK? :)
Links to other Thursday Thirteens!

Get the Thursday Thirteen code here!


The purpose of the meme is to get to know everyone who participates a little bit better every Thursday. Visiting fellow Thirteeners is encouraged! If you participate, leave the link to your Thirteen in others comments. It's easy, and fun! Be sure to update your Thirteen with links that are left for you, as well! I will link to everyone who participates and leaves a link to their 13 things. Trackbacks, pings, comment links accepted!

View More Thursday Thirteen Participants


Labels: Thursday13