April 18, 2007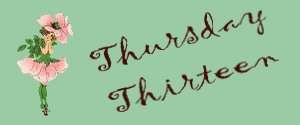 Thirteen things that Mitchypoo is grateful for.
To live in California.
My family. Great Mamacita and brother.
A job that I enjoy going to.
My best friend Julie.
Knitting.
That I have a warm and comfortable house to live in.
My animals, they give so much love.
Having enough.
That I'm American.
To be able to lose myself in a good book.
That I've loved deeply.
The love of learning.
Get the Thursday Thirteen code here!
The purpose of the meme is to get to know everyone who participates a little bit better every Thursday. Visiting fellow Thirteeners is encouraged! If you participate, leave the link to your Thirteen in others comments. It's easy, and fun! Be sure to update your Thirteen with links that are left for you, as well! I will link to everyone who participates and leaves a link to their 13 things. Trackbacks, pings, comment links accepted!





Labels: Thursday13