May 23, 2007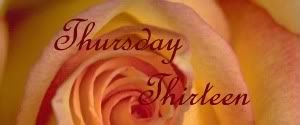 Thirteen randon thoughts from Mitchypoo because Blogger is totally making me mad...
I've tried all evening between photobucket and blogger to get my TT ready and I was almost done but an edit erased the whole thing and Blogger now has this stupid autosave thing and OF COURSE it saved just then so poof...it's all gone.
I should just do it again but it's getting late and I'm tired.
I sound like a whiner... sorry.
Maybe I should switch to wordpress although their templates are not so exciting.
This is the push for me to learn more about how to set up a blog I think.
I'm so happy that today I used my new insurance and I'm taking care of myself.
Blood pressure is good, but I must work on getting this weight off. What a wake up call.
I don't want to get overwhelmed with what I need to change to be in good health, but I must make efforts.
I get to make boobie pancakes on Friday...I'm having a mammogram.
Mamacita made it home, she almost didn't recognize me with my new do when I picked her up. She loved my hair.
We went to have breakfast for dinner after getting her from the airport. It was nice to hear about her trip and see pics. I had strawberry blintzes...yum.
What a sucky list...I'm so sorry.
It was a good list too...perhaps next week I'll have the patience to try again.
Get the Thursday Thirteen code here!
The purpose of the meme is to get to know everyone who participates a little bit better every Thursday. Visiting fellow Thirteeners is encouraged! If you participate, leave the link to your Thirteen in others comments. It's easy, and fun! Be sure to update your Thirteen with links that are left for you, as well! I will link to everyone who participates and leaves a link to their 13 things. Trackbacks, pings, comment links accepted!
Labels: Thursday13