June 27, 2007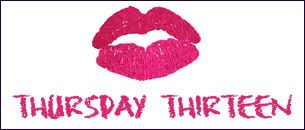 In honor of my cousin who is having a birthday on the 4th of July I present to you...
Thirteen Things about my cousin Cindy that Mitchypoo loves!
She's a nurse by profession but a caretaker by nature.
She lets me call her Cin or Cinders.
She's a good and loyal Wife and Mother, Daughter, Sister, Friend, Step-Mom, Aunt and Cousin.
She's got a good sense of humor and lets me kid her.
She's adventurous.
She's a knitter and we all know that knitters are cool people!
Her life is never boring, she's always entertaining.
She loves animals.
She loves people.
We share many memories growing up together that still make us laugh.
We've survived boyfriends, husbands and still can laugh about it.
She was there while I went thru some really bad medical stuff and she calmed me down and comforted me. She was also there during another bleak period and I'll never forget how she helped and supported me.
She's special to me and always will be.
Happy Birthday Cin! Love ya!

Labels: Thursday13