July 5, 2007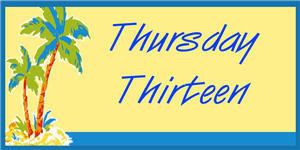 Thirteen Random Thoughts or Things going on for Mitchypoo!
Had a wonderful 4th. Got to sleep in, be lazy drinking coffee and knitting in a.m.!
We stayed in the coolness by going to the movies yesterday and going out to eat.
We saw the movie "Evening". It was just OK in my book.
I'm going to the dentist today for a full check up. I know I need some work done and I want to whiten my teeth. Will have to put the dentist in my budget. $$$
I woke up super early on the holiday thinking about an issue at work. Not good. I hate that.
I'm thinking about buying a new or used car.
Our cat Henry has cat acne...poor kitty. It got infected on his chin and he had to have a shot. We have to give him oral antibiotic and cream. That's fun...
I'm getting my passport because someday soon when I save enough, I'm going to Europe.
Some kid blew off 3 fingers last night with a sky rocket...is it really worth it people?! Poor little guy.
I'm knitting a lace stole/shawl with beads and I'm in love again with lace knitting!
I need to lose 5 lbs. because I'm having major yarn withdrawals. MAJOR!!!
I've been wearing my hair curly, because it's too hot to try and dry it and I really like it. Getting lots of compliments too.
I bought a Tiffany & Co. sterling ring on Ebay. My first piece of Tiffany and I adore it!

Labels: cats, Thursday13, yarn diet