August 2, 2007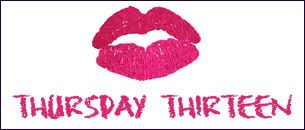 Thirteen Things about Mitchypoo that you may not know!
I dated someone with the last name Dick. I almost became a Dick.
I should have married the Dick instead of "Stupid" (the ex).
They used to call me Rubberband because I was skinny and very flexible. Those were the days.
They also called me Chipmunk as a baby because I had bumble cheeks.
I have a mole on the bottom of my foot. I used to tell Stupid that if he ever had to verify my body, he could look on the sole of my foot. He hated me telling him that and it made him mad. That's why I told him.
I tend to freckle instead of tan, I don't even try anymore although I love the Sun.
I had a Welsh Corgi when I was young whose name was Gabriella Hancook. She was a pain in the ass.
I know how to make bagels from scratch.
I learned to crochet from my Grandma when I was about 6 or 7.
I feel snarky today? Know what I mean?
I used to want to own a cow. I read up on it, I know how to do it, but living in LA, it'll never happen.
I want to become a painter, I think oil is my medium.
I want an ipod really bad.
The creative juices are having a hard time getting going today...sorry.

Labels: Thursday13