March 20, 2008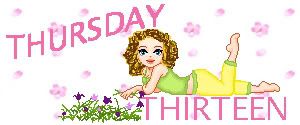 Thirteen reasons that Mitchypoo loves Spring!

It stays light longer after work.

The daffodils start to bloom.

There's a certain smell in the air.

The grass is greener.

Puffy clouds.

There's a crispness in the air.

There is dew in the morning.

Tulips! Love them!

Easter season, I love the kids Easter Baskets and the decorations.

You can start planting herbs and vegetables. Hmmm, I should start an herb garden.

It rains quite a bit and I love the rain.

The CA wildflowers are beautiful and in bloom.

pastel colors...it's a nice change after the dark winter colors.

Well, today is the first day of Spring but I've been seeing glimpses of it for weeks here in So. CA. Enjoy the season!


Labels: Thursday13